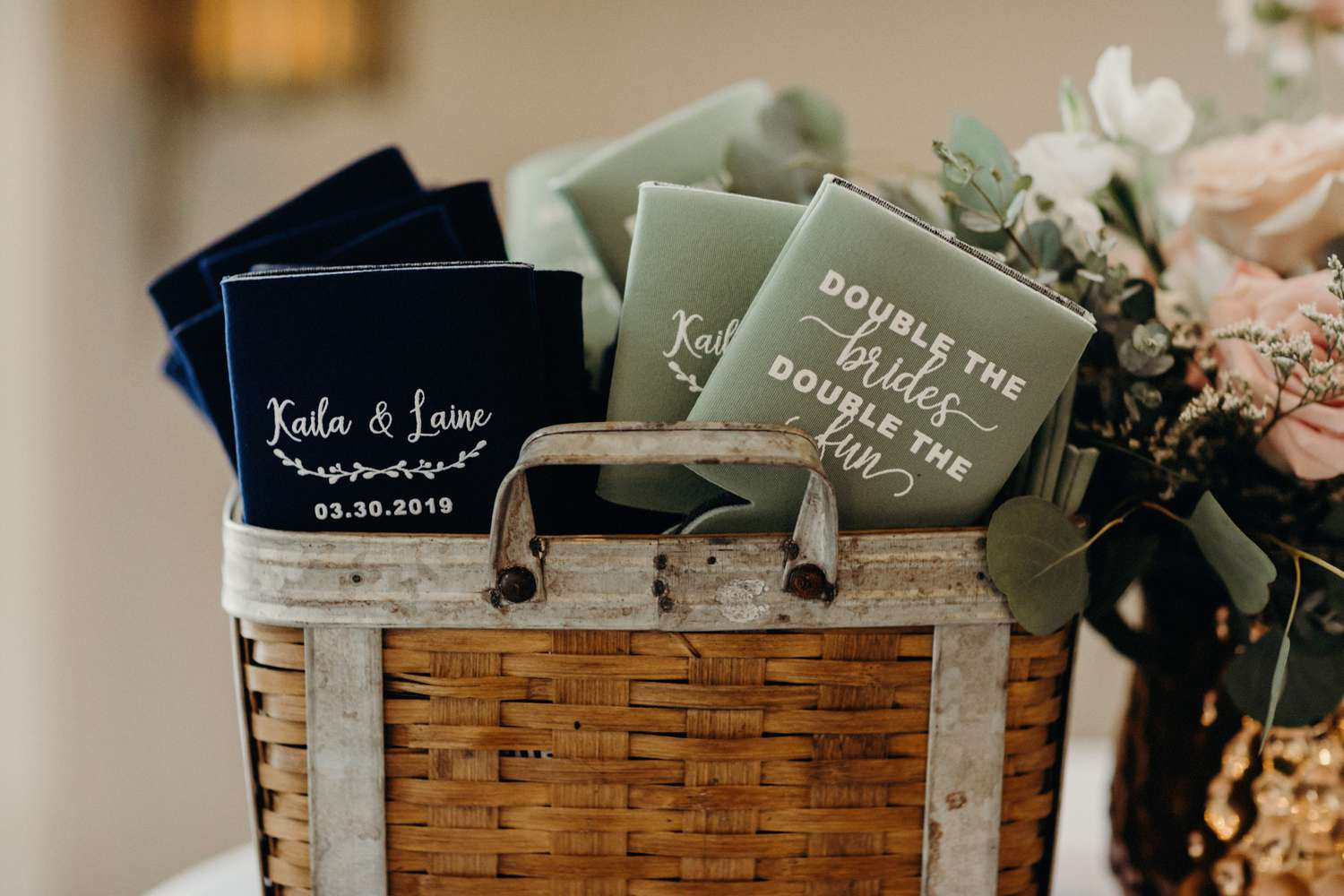 While wedding koozies are typically used for keeping drinks cold – especially at an outdoor wedding – they can also serve as nifty decorative elements. Indeed, displaying koozies at the wedding venue can add a touch of personalized fun to the festivities.
Here are some fun ideas on how to pull this off on your Big Day:
Favor Table
A favor table for displaying koozies at your wedding can be a charming addition to your reception décor. You can achieve by arranging the koozies in decorative containers like baskets, creates or even ribboned boxes. That way, the table can add to the overall theme of the wedding, while still serving as a dedicated station where guests can easily access and take home their koozie favors.
Adding a thank-you note to your koozie wedding favors could be a nice personal touch too, as it lets your guests know they are welcome to take one as a keepsake of your special day.
Place Setting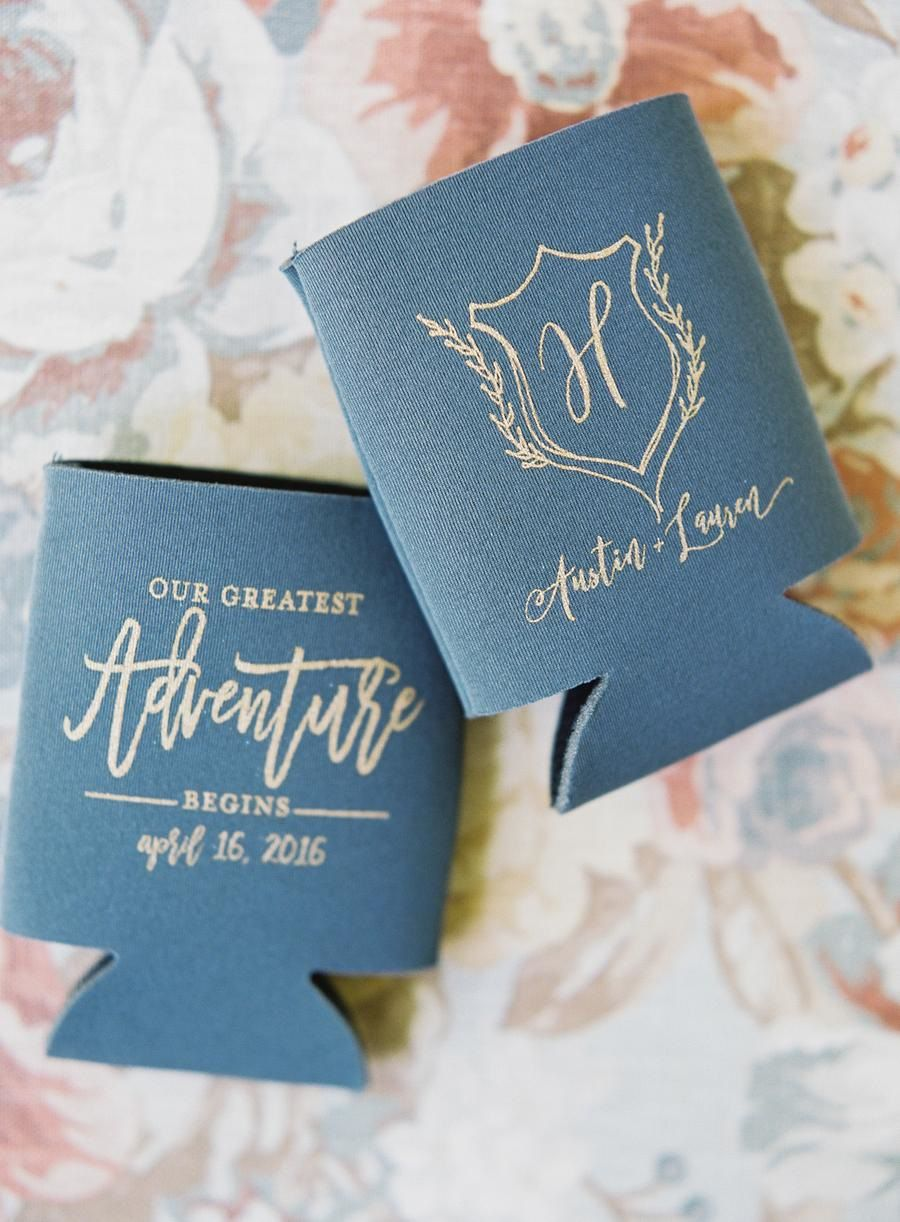 Incorporating koozies into your wedding place settings can be a thoughtful and personalized touch to the festivities. You can place a koozie at each guest's seat, either draped over their glass or arranged neatly on the plate.
To make it extra special, with a touch of elegance, consider personalizing the koozies with the guest's name or the wedding date. They'll be thankful for it.
Escort Card Display
Why use traditional escort cards when you can add a bit more flair to your wedding décor by using personalized koozies? It just makes sense to! Arranging the koozies in a visually appealing layout, perhaps on a table or display board, is indeed a clever way to combine seating arrangements and wedding favors.
Each koozie can hold the guest's escort card, which includes their name and table assignment. This would undoubtedly add a unique and interactive element to your wedding.
Centerpiece Enhancements
Table centerpieces can be a charming way to use and display koozies at your wedding. You can place a koozie around a vase of flowers, a candle holder or another centerpiece element. This not only adds a personalized touch but also serves a practical purpose, as guests can use the koozies to keep their drinks cool during the reception.
To pull this off, choose custom koozies that complement your overall table décor and wedding theme. Whether it's a rustic barn wedding or a beach destination wedding, integrating koozies into your centerpieces adds a cohesive and memorable element to your reception tables!
Koozie Wall
A koozie wall is a creative and visually striking way to display koozies at a wedding. This setup involves arranging koozies on a designated wall space, typically in a decorative fashion. You can use a pegboard, string, or a wooden frame with hooks to showcase the koozies in an eye-catching manner. Guests can then have easy access the koozies on the wall, as well as use them as a unique backdrop for photos.
To enhance the display, you can add a sign or message nearby encouraging guests to take a koozie as a take-home reminder of the wedding ceremony. You can also arrange the koozies in a pattern or design that incorporates or compliments your wedding theme. A koozie wall not only adds to the décor but also engages guests in a manner they won't forget in a hurry.
Drink Station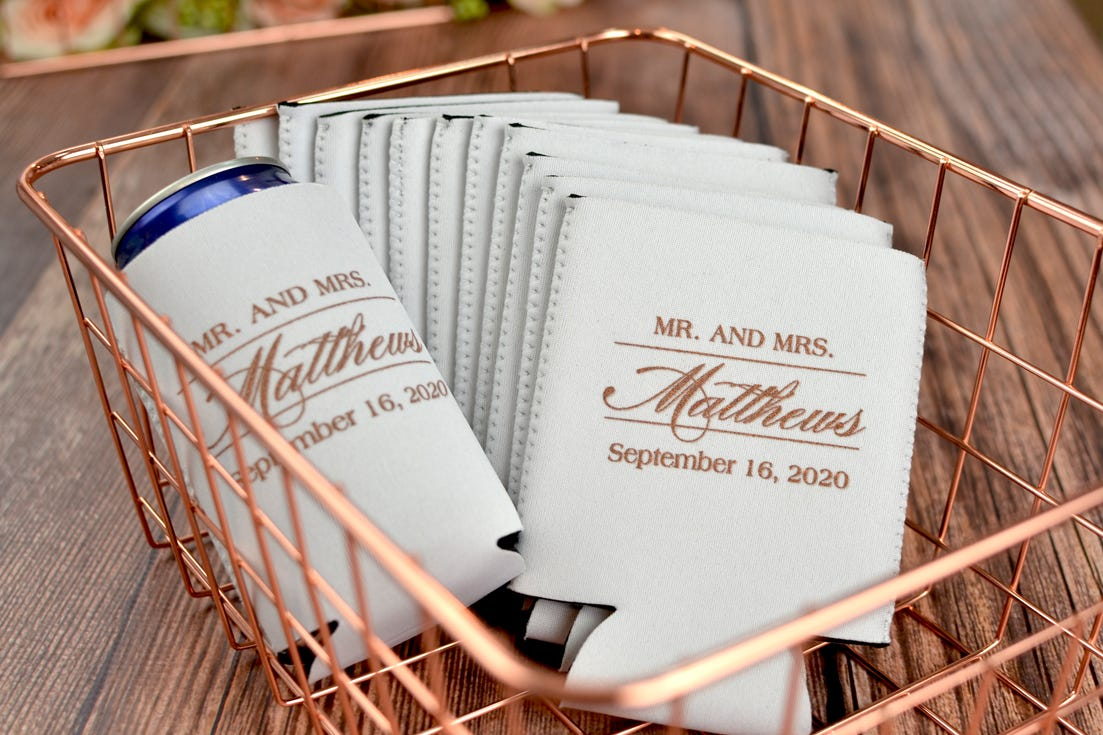 If you have a self-serve drink station at your wedding, you already have a perfect opportunity to display koozies in a visually-stunning manner. You can place the koozies near the drink station, allowing guests to easily grab one when they pour their beverages. Consider using decorative trays or containers to arrange the koozies neatly, making them accessible to all your guests.
To add a personalized touch, you can opt for custom wedding koozies that match the theme. Having them readily available at the drink station ensures that guests can keep their drinks cool and provides them with a useful and memorable wedding favor.
Wedding Koozies as Photo Booth Props
Koozies make for great photo booth props too! They can be a fun, creative addition to the ceremony. You can provide a selection of koozies with various designs and colors that match your wedding theme or include personalized messages. Arrange them in a decorative basket or container near the photo booth, making them easily accessible for guests to grab and use during their photo sessions.
The wedding koozie as a prop can indeed add an element of playfulness to your wedding photos. Make sure, of course, to communicate the idea to your wedding photographer so they can capture these moments. It's an entertaining and memorable way to integrate koozies into your wedding and encourage your guests to have some lighthearted fun on your big day!